Honorary Member
Staff member
Concrete Cancer - Antlion can kill concrete
Antlion is a insect which can kill concrete during construction of structure. they make a pit in concrete surface by digging up to 2 inch depth (50mm) and up to 3 inch wide (75mm).
They are smaller in size like ant and have powerful teeth like lion which makes its name as antlion.
They sit inside the pit and wait for crawling or flying insect to get fall in that trap, when small insects get trapped and when they try to get out of it, the moment of dig particle in pit wakes up antlion and antlion with its sharp long teeth catches them and have its food.
Antlion can survive for many months without food, and they prefer cold climate to relax for long time. when antlion choose a surface for digging there home, they do a survey for ensuring its under shed, no direct contact with water or rain, surface is sandy and a general survey for food availability. after that they start making their homes.
Recently i observed this antlion making their pits on surface of concrete.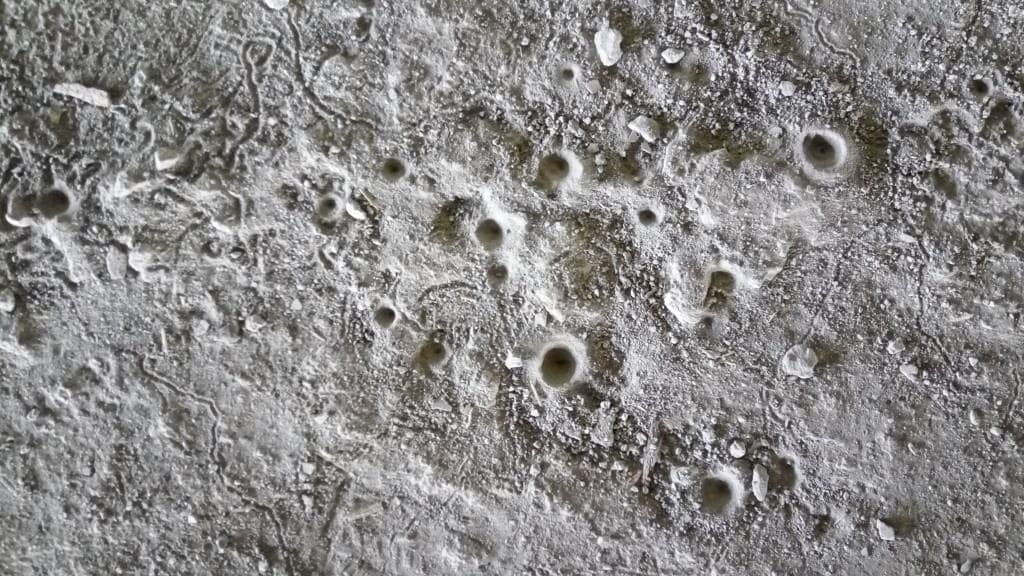 when lot of fine deposit on concrete surface available, it make them easy to get on it.
and once they make their homes, they spread everywhere even if the sandy surface is not available.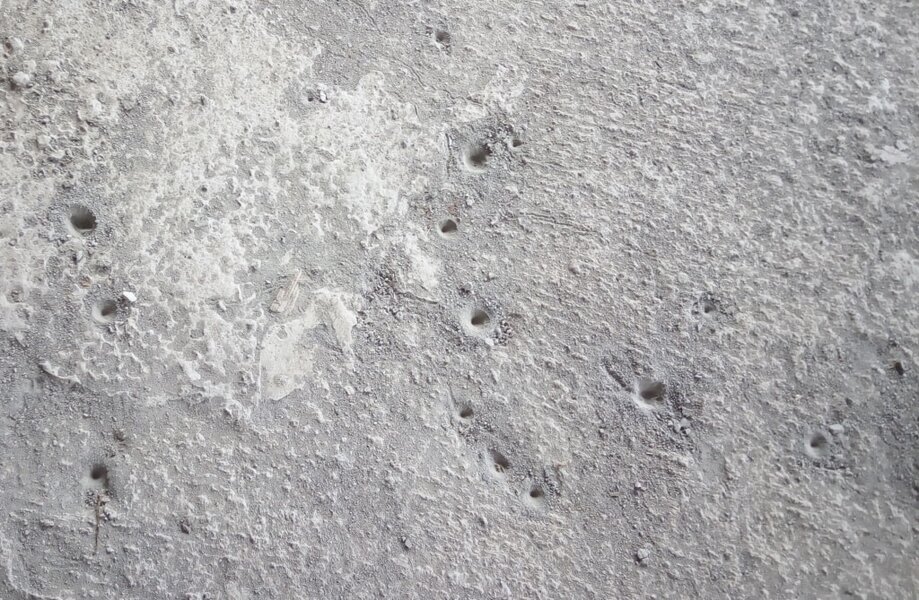 Those are like cancer to concrete and need to be treated immediately before it makes a complete damage to concrete surface.
we tried to find those antlion by taking out loose material from that small pit and also by making action like their food is trapped in pit, on first day we did not see any antlion.
After that we searched for more details of it and came to know that antlions camouflage and they act like as they are dead and make roll of their body to look it like a sand particle.
On next day we removed a loose particles from pit and waited there, after sometime the antlion which was sitting there like a dead in form of sand particle, began to crawl.
We also took them out by pouring water in pit. we collected some good amount of antlion insect and took photo of it.
We also experimented a solution to kill those antlions, we poured a waste oil drops in those pits and the antlion become dead.
Antlion makes a huge amount of clusters and eat the concrete to dug a pit, those pits can reduce the life of structure as it punctures the top cover of reinforcement.
Faster corrosion in rebar will lead to earlier failure in structure or structure become unusable in early stage of life itself.
How antlion can go on multiple concreted floor.
we did a case study on the above question and came with two possibilities of antlion presence.
The first possibility is, they came from the natural ground around the structure - in this case, antlion travels to stacks of material like their most favorite is a snd stack. when those material stacks are shifted on various floors, it spread on floor from the shifted material and do their work.
It comes from the outside resource - in this case, mostly a sand quarry area itself have antlions at there and it is being transported to site with truck loads of sand.
We also had discussion with many other engineers across various companies and projects, we found this as a problem everywhere mostly in cases where works are on hold for longer period of time which makes the conditions of location favorable to antlions.
Best way to Prevent them from making homes in your structure is
Keep your area clean
do not stack sand on the slab area for longer period, consume it as you shift it up and keep area clean.
when the works are on hold for longer period, do inspection every week in that area.
That's it, Keep housekeeping and get away from this kind of cancer.
this is what i know all about this, if you know more about this kind, do share your experience by replying to this thread.