Honorary Member
Staff member
Concrete Mix Design Excel Program
As we know the concrete ingredients properties are not same in all area, so the properties of ingredient affects the mix design and a designed made at some place in KanyaKumari can not be used at Kashmir.
So referring a design made by someone for his work at other places may not give you result as intended at your place.
This concrete mix design program is specifically made for India Only as per the ingredient properties available in all places.
This may be useful out side of India too (As the data is not hard coded and can get modify if you put correct properties of materials)
We divided India into four parts as North East West and South for easy evaluation.
With this you can design concrete up to M 85 Grade
(If you know basics, you can design it with this program)
To learn the art of concrete mix design and clear the concepts about it you can go through Best article by
Clicking Here.
This works on principles of IS 456 and MOST. With this program you can design concrete mix as per IS456, MOST and your technical specification if have any.
This is for professional designer who understand the designing process, as it need all inputs on ingredients.
Request all student to understand the concrete mix design process by going through article Become concrete master posted at forum, after that if you have any difficulties in using it, kindly do post about it in this thread.
This excel program runs with micros, so when you open sheet it is must to enable micros to allow program to do calculation on your input and its operation.
When you open program it will open its index page as shown below.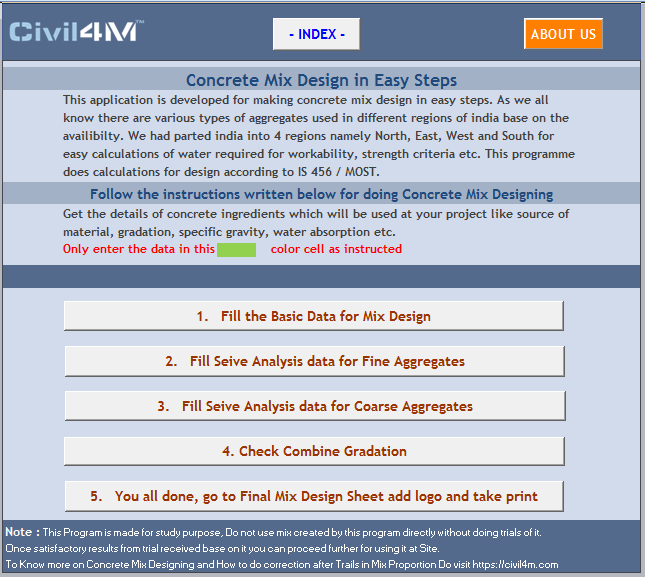 It basically consist of 5 steps to get the final output of your design.
You need to fill the basic data of ingredient, when you click on 1st button it will open a below data entry form.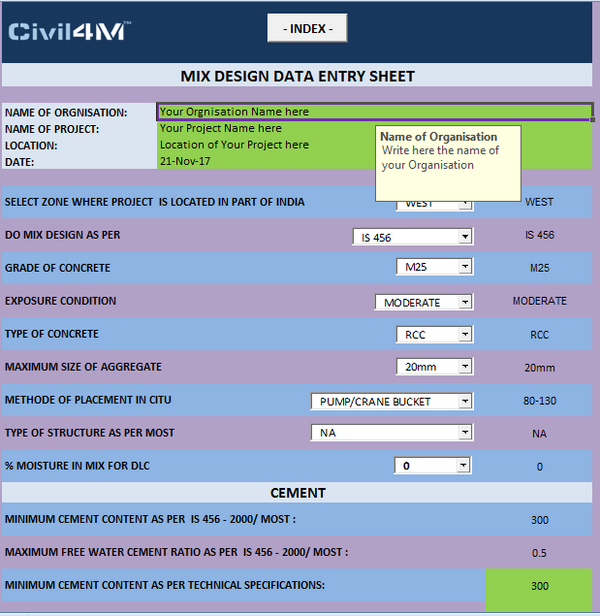 There are some drop downs and text fields with green color. You need to enter the data in green fields.
After that go back to index and click on 2nd button, it will open the below form.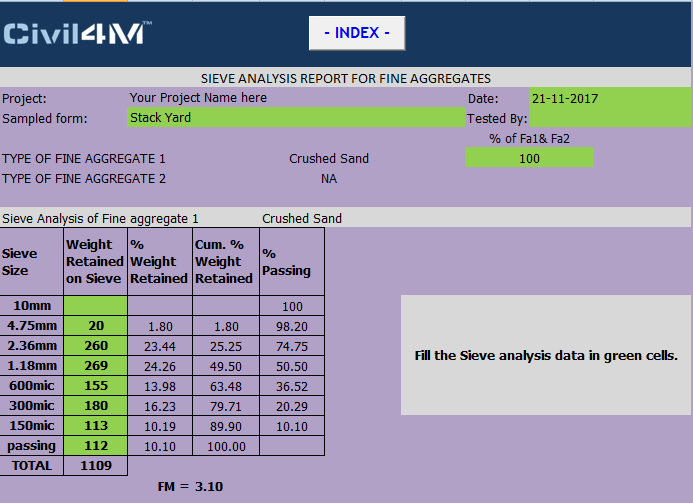 According to your choice of Fine Aggregates 1 or 2 type, you need to fill the sieve analysis form and again go back to index.
Click on 3rd button, it will open below form.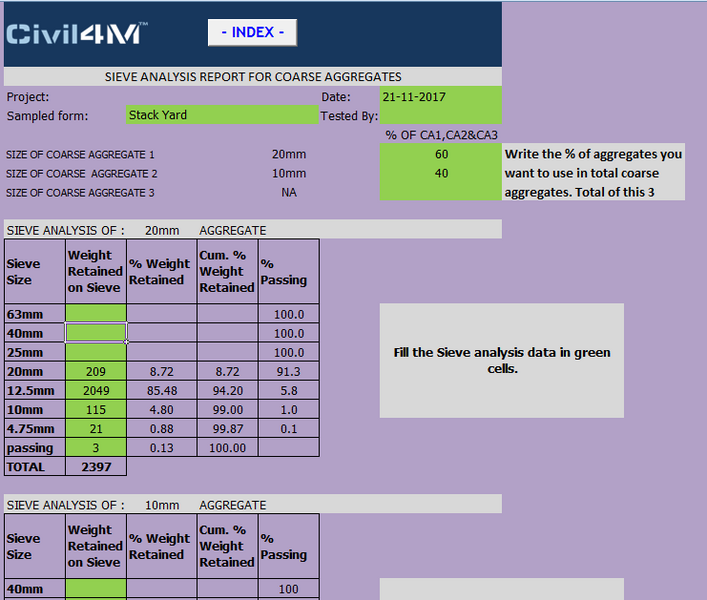 Same with coarse aggregates, fill the sieve analysis form and go back to index page.
Click on the 4th button and review the combine gradation as per the standards you want to refer.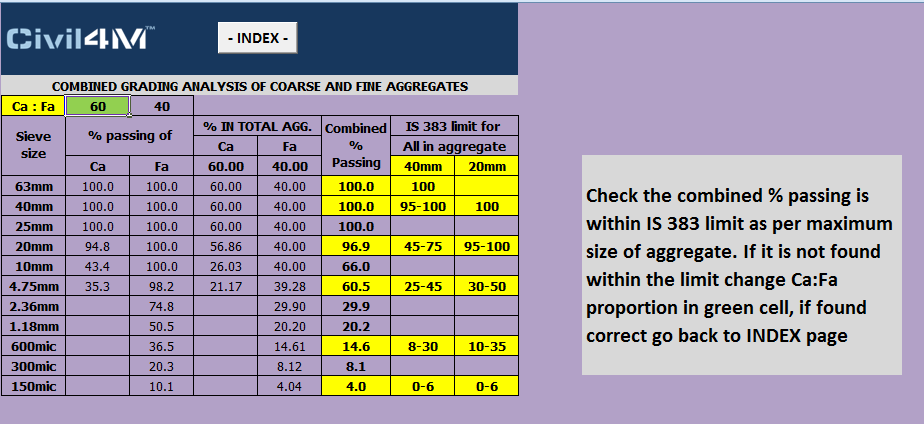 You can adjust proportion by changing total CA % in green bar, after that go back to index.
When you click on the 5th button a complete mix design sheet will open.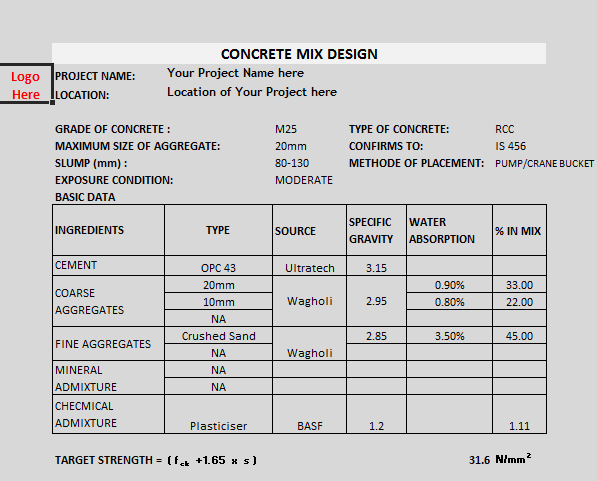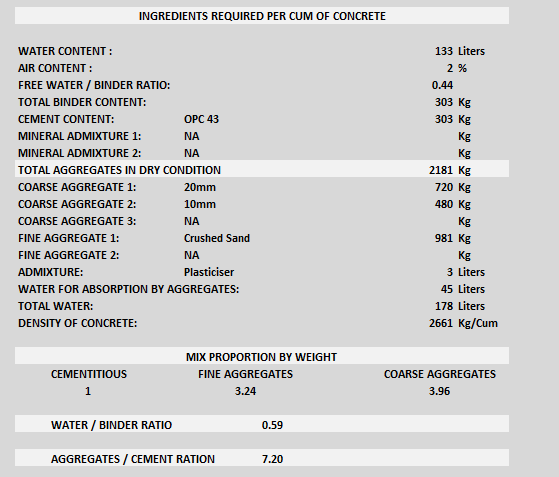 Add your company logo in red text area and take the print of it.
Any mix design created on paper need to be verified by doing trials on it before using directly at construction project.
Mix Designs should be use only after getting satisfactory outcomes from trials.
After doing trails, you need to adjust some ingredient to meet the fresh concrete desired properties (if required any, to learn more about this you can go to the article, whose link is given in this post at top).
The Concrete Mix Design Excel Program is attached in this post.
This is a smart program and does fast calculation, so you need to provide correct input to get correct result.
It do not have logic like us, so will give you false result on false input.
If you are a concrete mix designer and have some suggestions or can help us in improving this program further or find any miscalculation or missing formulas, kindly contact us.
We will update it and release the new version of it.
This is in the interest to share knowledge with all for betterment of Civil Engineering Community.
18

2