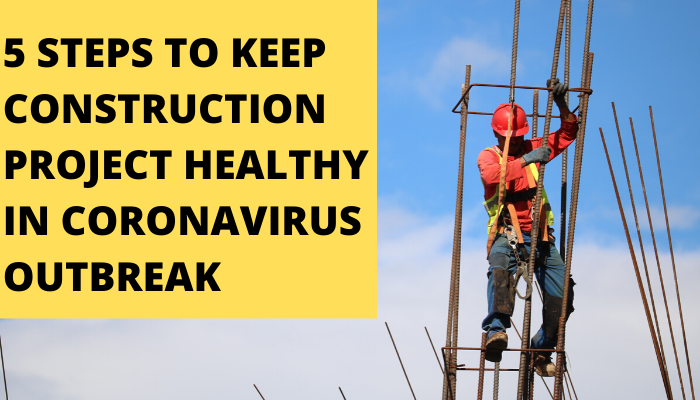 The outbreak of Coronavirus has already had a severe impact on both our societies and the construction industry. Building sites all over the country are shutting down entirely or continue to work with fewer people on the ground.
This new reality poses a big challenge for Project Managers around the world who try to manage their construction sites remotely and keep their workforce connected.So how do we manage to create a situation where they can keep their projects going and their teams on the same page, although they have to work remotely?
The answer to this question is quite easy if we consider that they can maintain constant access to all project data simply by using their smartphone, laptop, or tablet. Through the use of the right construction software, the remote management of a working site can happen much easier than you might think.
So here are a few steps that will allow stakeholders in construction to overcome remote work challenges and manage their multiple projects and sites in a proactive and data-driven manner.
1) Invest in a sector-specific Software as a Service (SaaS) and Cloud Solutions:
Many construction organizations in India use WhatsApp, Gmail, or similar digital platforms to stay on top of their short-term planning. And we understand why. It enables real-time communication, you can add photos and videos and share them in groups with multiple users, and you can even tag people. It's already a step forward compared to lifeless and outdated Excel sheets.
But there is an important problem in this approach. WhatsApp or Microsoft teams aren't built for this purpose. As a result, many challenges appear when you try to rely on a digital solution like that to monitor your daily progress, site issues, and document sharing.
First of all, the data you have shared through WhatsApp is static and lacks the context project teams need to plan and monitor the progress of their assigned tasks. If you decide to use WhatsApp for your reporting and monitoring processes, you will eventually need to employ someone to extract information from the platform on a weekly or monthly basis so he can make weekly or monthly progress reports and can update everyone.
That being said, it quickly becomes clear that Project Managers and top managements need to rely on construction software that will allow them to maintain full visibility over both the short and long-term planning of their projects. And that can happen only with a sector-specific software tool that will enable you to keep your teams connected.
At
BOCS
, we understand this need well, and we have the right tools and strategy to help you reduce construction delays and rework without increasing your project budget. And
BOCS
field mobile app is very easy to use that it required no training to your field supervisors.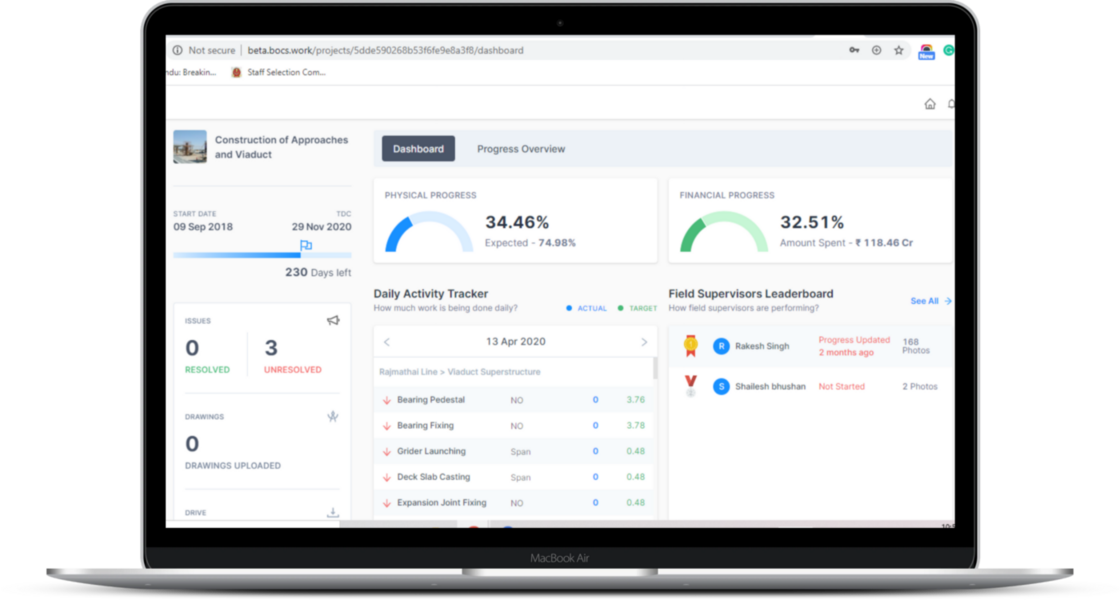 2. Connect your data to specific site activity/project elements
Now that we have highlighted the importance of implementing a sector-specific software solution, it is essential to take a closer look at the effort of your teams to stay on top of their tasks and report critical updates in real-time.
As we mentioned earlier, the data you collect mustn't be static. In other words, the feedback captured from the field should be linked directly to the respective site activity or project element so that the project participants can have an accurate view of what's coming next and define the needs of your project in good time.
Furthermore, the right people need to have access to the right pieces of information. It sounds simple, but it isn't. When a project team in construction uses tools, such as WhatsApp or Microsoft Excel or google drive, there is always the danger that the team members end up communicating and working in silos.
Simply put, the absence of a central data repository may lead to miscommunication and costly mistakes that can harm the development of your projects.
3. Take Mobile-first approach for construction site
The success of working remotely in construction is vastly dependent on the tools that your organization implements. Still, it also requires a robust digital strategy and the commitment of your team. In a sentence, it's substantial that people, processes, and tools are all perfectly aligned.
And that can only be achieved by providing a tool that is aligned with the skillset of your people and doesn't require training. In that sense, introducing mobile reporting to your construction teams is a crucial step in the effort to keep them connected. And that's something that they need during and after the Coronavirus outbreak.
BOCS
field mobile app feature allows site engineers to report progress on their daily work accurately and instantly notifies any member that needs to follow up. That's extremely valuable considering how important it is for Project Managers to have a complete overview of what's happening on-site in real-time when they are not there.
With
BOCS
, field teams can simply report work progress end of the day or when any issues occur, with a few clicks using their smartphones. Scattered data, phone calls, and long email threads are eliminated by keeping all reporting and collaboration in one tool. When a task is delayed or completed, the schedule is automatically updated to reflect the change. And that's a difference of paramount importance compared to tools such as WhatsApp, email, or excel when it comes to construction management.
4. Make data-driven decisions
Now that everyone is set up to work remotely, it's essential to make sure they are using and accessing resources successfully. Set up dashboards to actively monitor project health and accessibility. This valuable data tells you if your employees are active in your systems and able to perform functions as anticipated. It also gives immediate insight into their performance and informs you if action is needed for any working, address issues, etc., to ensure your workforce can stay productive.
5. Prepare for Increased Support Needs
Any time work conditions change, there will be a need for additional support. Have your and your software solution provider prepare a staffing plan for the help-desk support team in anticipation of increased support requests? Provide self-service options wherever possible, and make it easy to get support through multiple channels, including bots, chat, email, and phone.
We are happy to hear what works for you.
Looking for an online demo of
BOCS
? Click
here
or
Contact Us
.