AutoCAD draftsman

(July-2019)

F U L L T I M E P O S I T I O N
Minimum requirements
:
EDUCATION : I.T.I. pass.
EXPERIENCE : 2yrs to 5yrs in Arch office or at Construction site. Experience in Field measurements.
Creating accurate CAD drawings from hand sketches, verbal instructions, and site visits.
Field /site visits are to be done regularly.
Own 2 wheeler preferred for commuting from home to office.
Must be ready for any type of work.
Structure Design, Soil Testing, Survey, Pre bid Engineering, Detailed Engineering (Buildings, Highways, Bridges, Oil & Gas, Power)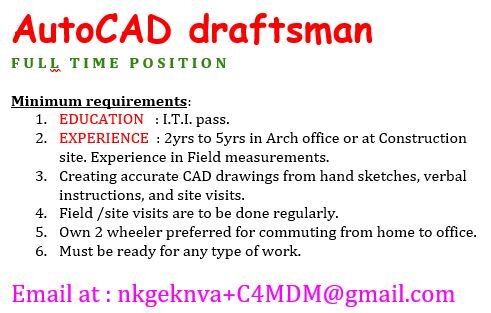 Email at : nkgeknva+C4MDM@gmail.com