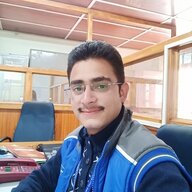 Royal Member
Staff member
Basic Rules for Safety
These are some Basic reasons of accidents at Construction Site.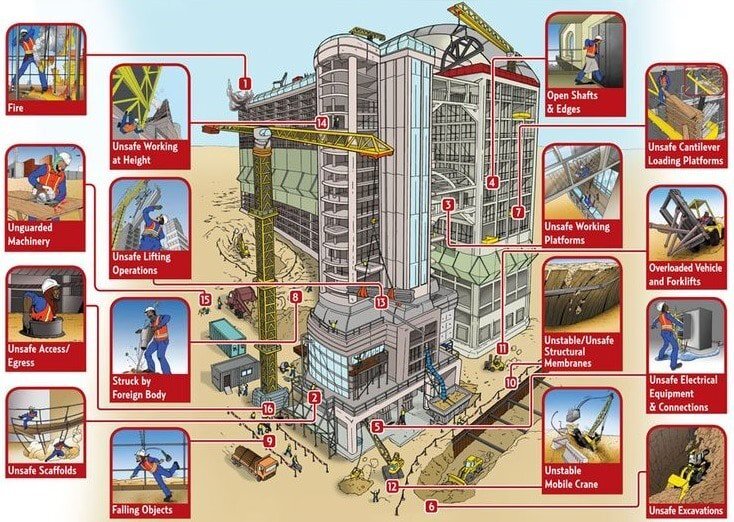 Rules of Safety At Site:-
Tidy up construction sites
■ Keep passages clear all the time.
■ Sort out materials and pile them up safely. The stacks should not be too high.
■ Beware of floor openings and ensure that they are fenced or covered.
■ Provide sufficient lighting.
■ Familiarize with the location and the operation of fire-fighting equipment.
Safety measures
■ Before you operate a machine, ensure that the dangerous part of the machine has been installed with a guard.
■ Avoid going to any area with insufficient lighting as there may be some dangerous places which have not been provided with fencing.
■ Keep vigilant all the time and watch out for moving cranes, hooks or other lifting equipment.
■ Before you use any electrical installation or tool, check the condition of its electric cables.
■ Avoid dragging electric cables on the ground or allowing the cables to come into contact with water.
■ Use electrical tools installed with an earth leakage circuit breaker.
■ Use and handle chemicals with care.
Personal Safety
■ Wear protective equipment.
■ Do not drink or take drugs while working.
■ Pay attention to personal hygiene.
■ Do not play in the workplace.
■ Report To your supervisor immediately if you notice any unsafe condition
Personal Safety and Hygiene
Eye Protection
■ A wise worker will certainly take good care of his eyesight.
■ A small fragment may cause serious consequences if it enters one's eyes.
■ When there is a risk of eye injury, such as in concrete breaking or using abrasive wheels, you should wear suitable eye protectors.
■ Take proper care of the eye protectors provided to you.
■ Replace damaged or defective eye protectors immediately.
■ Ensure that eye protectors are comfortable to wear, and keep clean.
■ Use eye protectors for eye protection ─ do not put it on your head or hang it on your neck.
■ Bear in mind that eye protectors are replaceable, but not your eyes.
Noise
■ Wear ear protectors in areas with high noise levels.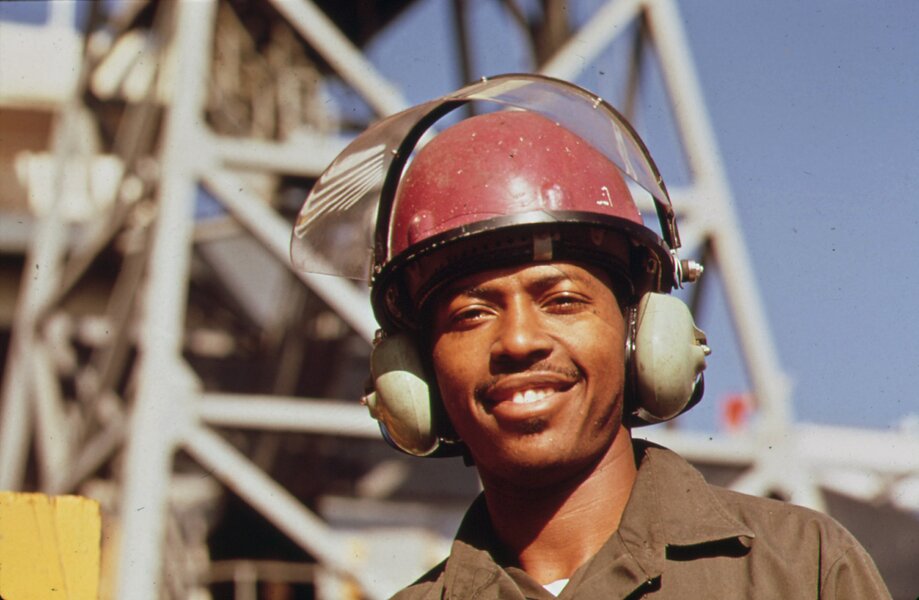 ■ Properly wear ear protectors according to the manufacturer's instructions.
■ Do not reuse disposable ear plugs.
■ Clean ear protectors regularly
Personal Protective Equipment
■ For your own safety and interest, use the personal protective equipment provided by your employer.
■ Wear gloves when handling or contacting chemicals.
■ Remember to wear a mask when working in a dusty environment.
■ Wear eye and ear protectors whenever necessary.
■ Wear a safety harness and secure it to a safe anchorage point when working at height. A bamboo scaffold is not a safe anchorage point, so do not fasten the safety harness to it.
■ Wear safety shoes to prevent foot injury.
■ Consult your supervisor if in doubt.
First Aid
■ If you sustain an injury or feel not well while at work, even if it is minor, go to the first aid room right away for medical treatment and notify your supervisor.
■ Put the case on record.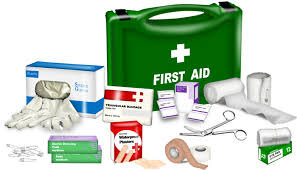 Safety Helmet
■ Wear a safety helmet on a construction site.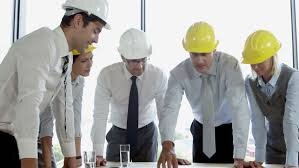 ■ Keep the harness of the helmet clean and make sure that it fits well.
■ Do not drill any holes on the helmet or use it for pounding.
Manual Handling Operations
■ Avoid manual handling operations as far as possible to minimize the risk of injury.
■ Estimate the weight of the load.
■ Lift an object with a correct posture.
■ Wear suitable protective equipment. Put on gloves as far as possible to protect your hands from any cut, scratch or puncture, and wear safety boots or shoes to prevent injury to toes by heavy falling objects.
■ Seek assistance from someone in lifting a load if necessary.
Personal Hygiene
■ Keep yourself clean.
■ Wash hands before meals and after using the toilet.
■ Dress tidily and in protective clothing.
Alcohol and Drugs
■ Do not drink alcohol, or take drugs, while at work.
■ If you need to take drugs due to illness, report it to your supervisor.
Safety Measures to Prevent Construction Accidents
Portland cement is alkaline in nature while concrete is a controlled mixture of cement, aggregates, and water. Because it is a fluid mix, wet concrete and other cement-based mixes are caustic and will burn the skin after prolonged contact.
Contact with wet concrete, masonry mortar, cement, and cement mixes can cause
skin irritation, severe chemical burns, and serious eye damage
.
The following safety measures will therefore serve to reduce the accident rate in mixing and placing of concrete used in the casting of footings, foundation walls, floor slabs, beams, columns, retaining walls in a project.
- Wear sturdy work gloves, long sleeves and full length trousers to protect your hands, arms, and legs.
- Indirect contact through clothing can be as serious as direct contact, so promptly rinse out wet concrete or mortar from clothing.
- Wear rubber boots when placing and handling concrete for slabs and flatwork, because you may sometimes have to stand in the wet mix to spread and screed the concrete.
- Make sure the boots are high enough to prevent concrete from getting inside them.
- To protect your eyes from cement dust and from splattered mortar or concrete, wear safety glasses or goggles.
- Since masonry involves heavy lifting, be careful to avoid back strain and injury—always bend your knees, keep your back straight, and lift with your legs.
- Small, shallow concrete footings can sometimes be formed by earth trenches if the soil is stable, but most concrete work requires building forms to shape and hold the mix until it hardens. Forms for concrete must be strong, tightly fitted, and rigidly constructed.
The deeper the concrete, the greater the pressure it will exert on the formwork, so don't be afraid to use an extra stake or two to help ensure that forms will not bulge or bow out of shape during the pour. Drive supporting stakes slightly below the height of the string so they won't interfere with leveling or finishing the concrete surface.
10 Must Follow Safety Tips at Construction Site
Below are 10 must follow safety tips for a construction site –

1. Place appropriate safety signboard all around the site and where needed.

2. Make safety tray at every six meter height (specially in building construction).

3. Place appropriate signboard inside the project where applicable. Such as danger signboard or symbol on electrical board.

4. Use well insulated cable for temporary electrical connection.

5. Make temporary masonry wall or safety grill or fence around void areas. Such as lift void, stair void, etc.

6. Make scaffolding with safety net at periphery of building.

7. Keep a first-aid box at site for emergency.

8. Prohibit smoking inside the project. If not possible, secure a place for smoking.

9. Keep a bucket of sand and a bucket of water always ready for emergency fire fighting. And of course keep a fire extinguisher ready for use.

10. Make sure individual safety equipments such as safety belt, helmet, etc are properly used by workers when needed.

These are must follow safety tips for any construction site. Beside these, you can regularly train up your workers and team members for making your construction site a safe workplace.