Project Quality Plan states about the standard systems which are implemented in any company and had all processes of it in details.
Project Quality Plan helps in moving from human driven system to system driven system where anybody can do that specific jobs by reading and following processes.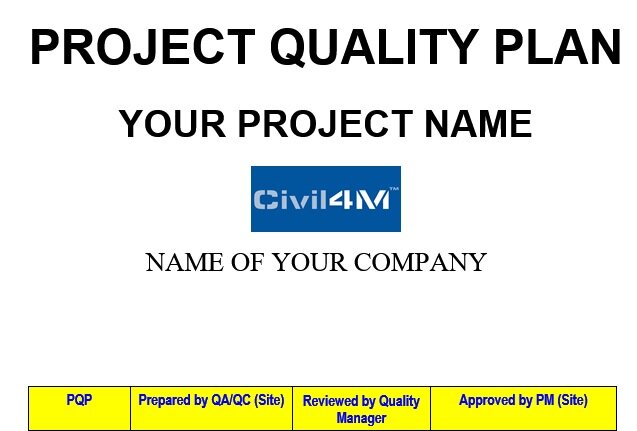 I have attached herewith a Project Quality Plan as per ISO Quality Management System for Construction Project.
The Project Quality Plan includes following in it.

General
Cover Page
Revision Record Sheet
Contents
Declaration
Glossary of Terms
Scope, Purpose and Terms & Definitions
Quality Management System
General requirements
Documentation requirements
Control of Documents
Control of Records
Master list of controlled copy holder
Document change note
Master list of codes / standards
Master list of quality records
Management Responsibility
Management Commitment
Customer focus & Quality policy
Quality Planning & Quality objectives
Progress on quality objectives
Responsibility, authority & communication
Management review
Agenda for management review meeting
Minutes of Management review meeting
Resource management
Resource Management
Training plan for workman
Training & Evaluation record for S/C workman
Training record for staff
Product realization
Product realization
Review of material status
Customer satisfaction report
Monthly performance report
Monthly Quality Report
Data Bank on Concrete used at Site
Statement of Concrete Data
Project Completion Report
Customer related processes
Master list of submittals
Minutes of meeting
Confirmation of verbal instructions
Change order request
Register of confirmation of verbal instructions
Register of Change order
Design and development
Purchasing
Cement receipt information note
Course aggregate receipt
Fine aggregate receipt
Reinforcement receipt information note
General material information note
Production and service system
Identification and trace ability
Customer property & Preservation of product
House keeping format
Control of monitoring and measuring devices
Measurement, analysis and improvement
General, Customer satisfaction
Internal audit
Audit calendar
Audit notification
Audit report
Non-conformance report
WI for product quality rating
Register for product quality check
Monitoring and measurement of processes
Monitoring and measurement of product
Control of non conforming product
Analysis of data
Improvement
Corrective action
Preventive action
Preventive action report
This Project Quality Plan is in Microsoft Word format and fully editable.
You can download it from below attachment.