Properties of Plywood's used in construction and some facts
Plywood's are used as a sheeting member in any formwork system and it gives the finish to concrete moulded into it.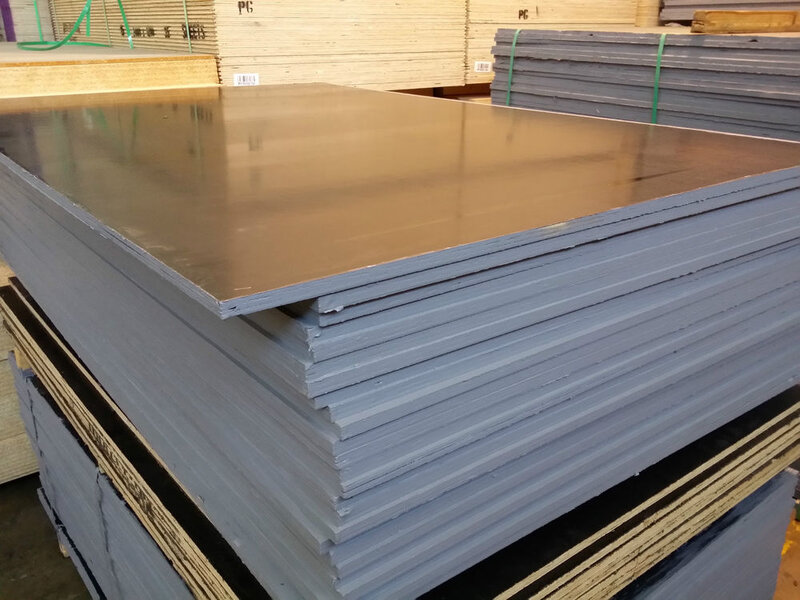 Image Source:
Timber & Building Supplies Online - Sydney Based Online Store
Plywoods which are used in Formwork Applications
Shuttering plywood
Film coated plywood
Densified plywood
In some cases, commercial plywood's are also used based on the number of reuses and application
Plywood's are manufactured in conformance to below IS Codes, here in India
Plywood for Concrete shuttering works – IS: 4990
IS 4990: Plywood for concrete shuttering work - Specification - Civil4M
Resin treated compressed wood laminates (Compregs) – IS: 3513
IS 3513-1: Resin treated compressed wood laminates (compregs) - Specification, Part 1: For electrical purposes - Civil4M
IS 3513-2: Resin treated compressed wood laminates (compregs) - Specification, Part 2: For chemical purposes - Civil4M
Resin treated compressed wood laminates for General Purposes (Compregs) – IS: 3513 Part 3
IS 3513-3: Resin Treated Compressed Wood Laminates (Compregs) - Specification, Part 3: For General Purposes - Civil4M
Plywood for General Purposes – IS: 303
IS 303: Plywood for General Purposes - Civil4M
Curved sections are made up from general plywood where curvature is important (surface of the plywood is covered with thin metal sheet to get smooth finish)
Sampling of Plywood
Sampling of plywood from lot and acceptance criteria should be as per IS: 7638
IS 7638: Wood/Lignocellulosic Based Panel Products - Methods of Sampling - Civil4M
Key Parameters in Plywood
Plywood thickness and its dimension
Water Resistance
Tensile Strength
Density
Thickness of face veneer and core veneer
Number of Ply
Veneer layer Construction
Properties of shuttering and film faced plywood
Thickness available – Generally 12mm to 19mm is used
Dimensions available – maximum 2440 mm x 1220 mm
Density – 750 Kg/cum
Water Resistance test – 72 hours boiling
Moisture Content – 8 to 10%
Glue shear strength – Dry >135 Kg
Glue shear strength – Mycological >100 Kg
Water Absorption < 5 %
Screw Holding strength – 275 Kg
Nail Holding Strength – 150 Kg
Tensile Strength – 600 Kgf/sqcm
Number of repetition of Plywood shutters
Number of repetition depends mostly on how the shutters are handled.
If shutters are handled badly by carpenter's and helpers, they are going to give less repetition and in some cases due to damages while de-shuttering, you might need to throw-out the plywood.
Generally, a good plywood gives a repetition up to 7 on each face i.e. – total 14 repetitions can be made.
It may give more repetition when handle with care.
To get more from a plywood, you need to design the formwork scheme which shows the sizes of each shutter in plan. While designing formwork scheme you need to consider following
Full length shutter if made for a beam, it won't get removed easily and may get damaged, you need to make shutters in pieces to facilitate easy de-shuttering and for longer life of plywood.
Spacing of Primary and secondary members to avoid bending in plywood.
Shutter joints at corners, if not designed properly, shutter starts wearing out from ends due to slurry loss through gaps and sticking of shutter to structure.
Plywood's should be stored in rooms where no direct sunlight comes. They should never have exposed to direct sunlight for a longer period. If due to any reason work is halted for longer duration after fixing shutters in place, you should consider removing all shutters and storing it in room.
If not done so, the contact of direct sunlight for a longer period will make plywood dry and when all moisture from plywood goes away, it will start to bend, wrap and disintegrate.
That plywood's then become non-usable or if used then can cause serious issues after finishing works, due to bending, warping, you won't get ceiling in level and plastering such undulated surface is not easy. Thicker plaster to ceiling can cause de-bounding issues and in future might some part of plaster will fall on the head of resident which is not good.
Below are some photos of plywood's which are exposed to direct sunlight for long time.
Cracking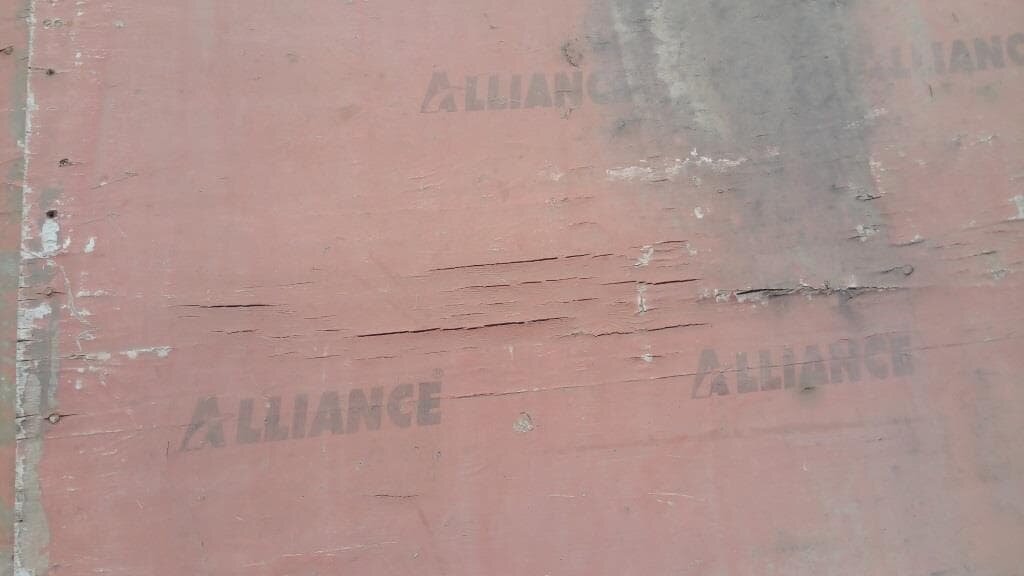 Bending