You can use this Quality assurance manual for building your own plan for Road Projects.
Attached plan consist of;
Introduction
Scope of the work
Preliminary site origanisation structure
Execution system/ detailed methodology
Brief descriptions of senior functions and quality personnel
List of monitoring & measurement devices available with us
Machiery deployed with capacity & make list of
Laboratory & field testing operation system
Standard codes available at site
Check lists
Forms & formats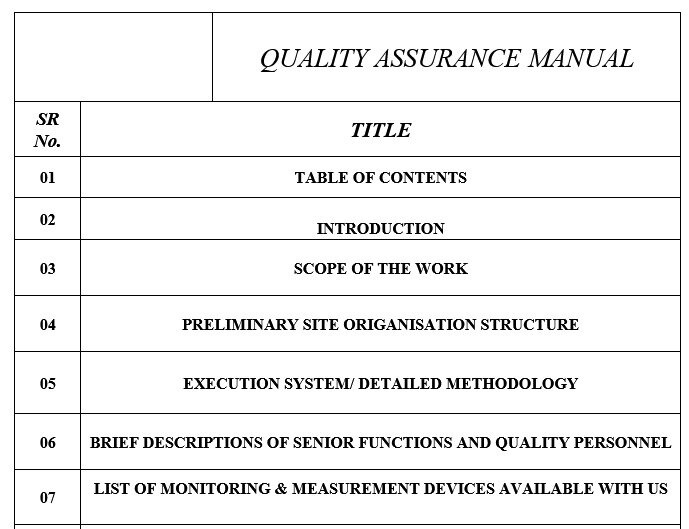 Scope of the Quality Assurance Manual
The QA/QC MANUAL is prepared for the work of the Construction / Improvement of Bituminous Roads & Cement Concrete Road CC in PMC Limit under JNNURM Scheme - CATEGORY – I. While the Quality Control measures already exist in the form of the specifications forming a part of the tender & contract for the work. Quality Assurance measures will provide consistent & comprehensive methods of checking & approval of the work for correct executing of a particular job. This can be achieved by establishing step by step procedure that will reduce/ eliminate human errors if any. Obviously, the approach to any given problem is always individualistic & is subjective to that extent. It is likely that the stated approach is not necessarily the consensus of all concerned. Neither is it expected that the Quality Assurance Manual will solve all problems likely to occur during execution.
The QA/QC MANUAL is only for guidance & it is not intended to supersede or take procedure over the contract specifications. In case if any doubt for discrepancies, clarification must sought from the appropriate competent authority to give such decision.
Efforts will however be made to update the documents as the work progress & as feedback above the manual is received from all concerned with the work.
Quality Assurance manual is attached below.