This book has been created to reconfirm our working methods & methodology and to share it with civil engineers and the Civil4m staff related to construction who will deliver the best product and achieve the aim of customer satisfaction.
The aim behind is to develop the readers mindset to face the changing reality of the world, and to deliver the product by recognizing the new pace of the world without hampering the quality of the product. For any successful project the coordination of designers, suppliers , contractors , workers, supervisors and many other variables ; is quite exhaustive. In spite of dedicated hard work, the ultimate product may contain lot of non-conformity on several occasions.
Each chapter of this book includes the actual process followed for the activity. More effort is also put to expose the actual on site problems encountered during the process. Some areas we have also highlighted the importance of coordination required between different agencies at different stages of work. All this actions have been supported by actual photographs to understand more effectively.
Awareness of the problems and better forecasting leads to a better quality work. A good quality job with no reworks takes less completion time and eventually takes the project to success.
This book is just a one step taken to create awareness of Quality. In coming years may be techniques will change, methods will change but the attitude of executing a Quality job should not change .Your review & feedback will be important for making this book better in next edition.
It is hoped that this book would be a ready reckoner for every person working towards customer satisfaction.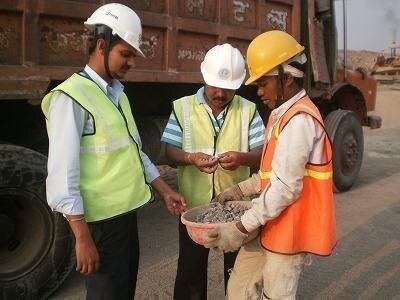 This Manual covers the following subjects;
CIVIL Work
1. Concrete
2. Rebar
3. Grade slab
4. Clean rooms
5. Floor finishes
6. Form work
7. Dry wall partitions
8. Ceiling'
9. Door shutter and windows
10. PEB
11. Roads
13. Settlement survey
Electrical
1. Cable lying
2. Cable trays
3. Light Fixtures
5 Panel Installation and termination substation fire detection and alarm systems
Mechanical
1. Material inspection
2. Underground piping
3. Stress procedure
4. Pipe supports
5. Welder selection procedure
6. Welding preparation
7. Bellows fitting
8. Duct installation
9. Diffuser installation
10. Fire fighting sprinkler installation
11. Free residual chlorine
Image Courtesy: my old site photographs