Royal Member
Staff member
STATUE OF UNITY​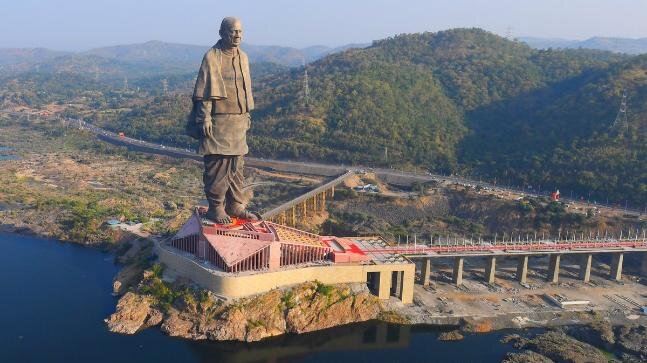 The STATUE OF UNITY is a monument dedicated to Indian independence movement leader Vallabhbhai Patel who is also known as Iron Man of India.
He is renowned as the architect of Independent India, as He united all diverse 562 princely states to build one great Republic of India.
The monument is inaugurated by the
Honorable
Prime Minister of India, Narendra Modi on 31st October, 2018 on the Birth anniversary of Sardar Vallabhbhai Patel.
It is located facing the Sardar Sarovar Dam, on the river island called Sandhu Bet near Rajpipla in Gujrat [India].
Construction:
Built by
Larsen & Toubro
, works on statue started in December 2013
Designer:-

Ram V. Suter





Material Used:

Steel Framing, Reinforced concrete, Bronze Cladding

Height: Statue 182 meters [597 Ft]

Including Base 240 meters [790 Ft]
Project Completion Time :

5 years



Construction Cost:

Rs.2989 Crore [US$ 420 Million]

Material Requirement:

The Statue needed 75,000 cubic metres of concrete, 5700 tonnes of steel structure, 18,500 tonnes of reinforced steel rods, 22,500 tonnes of bronze sheets for construction.

Silent Features of Statue:
Bronze cladding on Statue
2 Fast elevators to reduce the Transit time for visitors which takes the visitors up to the chest of the Statue to a viewing gallery.

The Statue of Unity, the world's Tallest Statue, have a viewing gallery at 153

meters

that will accommodate 200 visitors at one go and would give them a bird's eye view of 200 km reservoir of the

SardarSarovar Dam and the Satpura & Vindhya mountain ranges.

Statue of Unity will be able to withstand wind velocity up to 60 m/second and earthquake measuring up to 6.5 on the Richter scale.
The Statue of Unity, will comprise two semi joined composite concrete cylindrical cores, surrounded by a structural steel space frame to support exterior cladding.
Project includes
Bridge Connecting the memorial to the mainland
A memorial
Visitors centre buildings
A memorial Garden
A Hotel
A convention Centre
Source: Wikipedia,Statue of Unity Website and several news papers.