Question: Do you consider yourself to be in the early stage of your civil engineer career? How many of you are looking to add tools to your toolbox in order to make you a better engineer? How many of you have a group of people in your personal networks who you look to for mentorship & guidance in helping you chart you career path?
I pose these questions to the Civil4M membership: ALL OF US need to be continually asking ourselves questions like this, no matter if you have 2 years of experience or 20 - We need mentors. We need role models. We need to continually add tools to our toolboxes, and sharpen the ones we already have.
Personally, I want to help as many of the loyal Civil4M members as possible. In my 30+ years as a practicing licensed civil engineer, I have assembled & acquired a toolbox of skills, experiences & knowledge, and I am on a mission to share as much of it as I can.
In trading messages with
Dnyan Deshmukh
, I have learned that podcasts have yet to gain popularity in certain areas of the world like they have in the US where I live. As an extension of my civil & construction engineering website
Hildebranski.com
I have started a podcast: Its title,
The Construction Engineering Show
says it all - I am sharing 3 decades of experience, stories, tools, thoughts & ideas about civil engineering & construction with my listeners.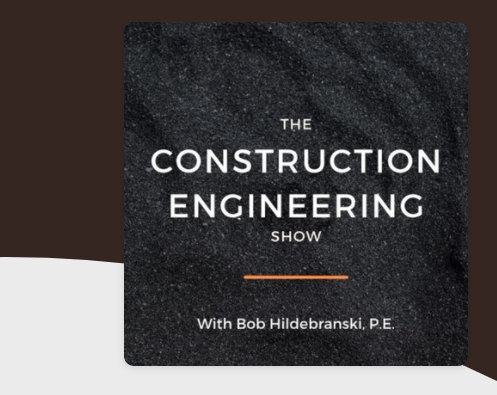 Simply put: I'd like to you give it a listen. I have tools in my toolboxes that I want to share with you. There is no charge for it - Sharing my knowledge is my way of "paying it forward" in hopes that we all make each other better engineers every day.
Check out
Episode 8 - "Need to Knows" for Young Construction Engineers
where I discuss 4 key attributes that young, aspiring construction engineers should have when thinking about entering the field.
You can listen to it using popular podcast apps like
Spotify
,
Google Podcasts
,
Apple Podcasts
, and others.
Give it a listen. Add a tool to your toolbox today. Leave a note below and let the membership know what you think - Cheers!!