Concrete is a blood line of the construction projects where the structures are built in RCC.
It is of high importance to keep the supply of concrete smooth either producing it on site or by buying it from other manufacturer.
If you are working on concrete manufacturing unit then, the reconciliation of material is a big deal for you, in order to ensure there are no hidden losses at unit.
Reconciliation of material gives you an idea about, is the project is running as per planned consumption values and stocks do matches with financial plans.
If the consumption goes uncontrolled and there is no record of data or no control on it. if the costly materials like cement and admixtures are getting consumed more than plan value in production of concrete, you will be making hidden losses to company as the cost per cum is fixed value and is base on consumption of concrete ingredients per cum. if costly materials get consumed more than the planned value, it is going to cost a higher amount to produce that cum of concrete which will result into a loss.
Thus keeping track record on day to day basis on consumption and stock is important.
When the production of concrete goes to huge amounts like 1,000 cum or 3,000 cum or more, it becomes an important task to reconcile the material received with consumed and balance available at RMC unit. Balance stock of material at the plant is the inventory.
I have attached here with a format of reconciliation for ingredients of concrete (Bulk Materials) which you can find at end of this post and by clicking on attachment, it will get downloaded to your device.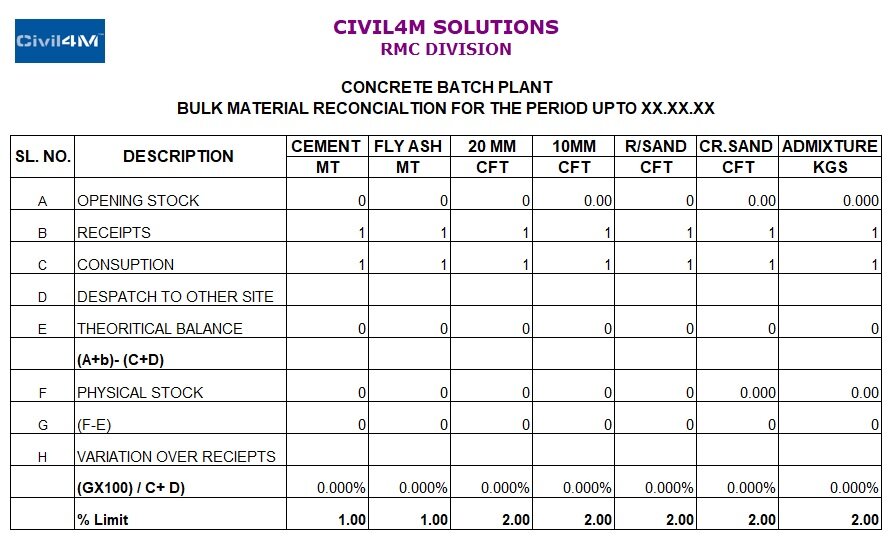 The attached format has all formulas in it, you just need to add the values in it and the rest of the calculations will be done by this sheet automatically.
This excel sheet is fully editable, so that you can do addition and deletion as per your requirement.
How to use this Material Reconciliation Excel sheet and do Reconciliation?
I have seen many times people do ask about how to use and also in some cases demands for videos too. so i am taking an effort by writing about how to use it, so that it becomes easier for you to understand it and learn the art of doing reconciliation of materials on your own.
The picture shown above is a summary sheet which does calculation of final results and shows the variation which is indication of project running in controlled way or is going in uncontrolled fashion which could lead to losses.
When you open this excel sheet, you will find total 6 tabs in it which are listed below.
Summary sheet / reconciliation report
Daily Production Report
Concrete Ingredient consumption report
Aggregates receipts
Cement receipts
Monthly Production Report
In order to make sure that, you understand it more clearly, i had kept this format as minimal and avoided doubling of data and increasing confusions.
Monthly Production Report
It just indicates how much concrete quantity was produced in each month and had record of current financial year production.
Cement Receipt
On this tab, you can do entry of cement and flyash receipt on every day, you can also make additional columns in this sheet for receipt of micro-silica or GGBS or any other cementicious material which is used at your construction project.
Aggregates Receipt
On this tab, you can do entry of all aggregates receipts on every day basis for say 20mm, 10mm and crush sand (you can add here or edit the aggregates names as per which you are using at your location).
Concrete Ingredient Consumption Report
on this tab, you will find few important things which need to be edited correctly to ensure your reconciliation is done correctly without errors and flows in it.
In the table of ingredients requirement per cum of concrete, you need to fill all the mix designs which are used for manufacturing of concrete at your project.
In next column of concrete production, you need to write the quantities of concrete produced for each grade for that month.
There is a table at the bottom of the sheet, named as DLBD. DLBD means dry loose bulk density and normally written in Kg/cum. You need to change the values of DLBD for each aggregate size.
Daily Production Report
in this tab, you need to make entries for produced concrete quantities grade wise on each days. at the end of the month the total quantity for each grade to be used at concrete ingredient consumption tab.
Reconciliation Report
This is summary sheet and indicates what theoretical calculation you had done and attached as backup tabs along with observed variations in stocks by comparing it with physically available materials.
Opening stock - is a stock of material available at site at the start of the month.
Receipts - is the details of all material inward happened in the month.
Consumption - is the details of each material consumed in the month
Physical stock - is the verification of stock of material physically by measuring the all available materials. the physical stock is normally taken at the 1st of each month before starting the concrete production activity.
I tried to prescribe more in detail about the each tab in this excel sheet, in order to use and understand it completely, you need to have basic knowledge of concrete production and measurement system for each ingredient.
The material reconciliation for RMC concrete ingredients is attached below.